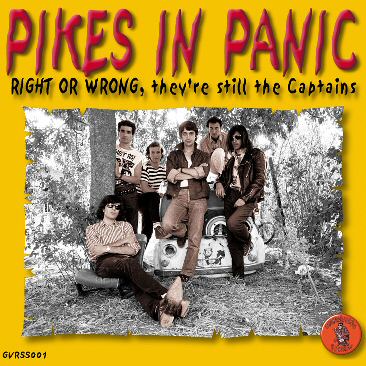 Luca Losi - Voice / Lorenzo Carlucci - Guitar / Marco Sammicheli - Lead Guitar Angelo Giallombardo - Organ / Michele Landi - Drums
This special edition dedicated to italian cult bands opens with Pikes in Panic from Siena, one of the best italian garage punk band in the mid eighties.
After publishing one 7" e.p., an LP and taking part to the compilation eighties coulours #2, they quit leaving a great memory to the fans who followed them through their roaring gigs.
Limited edition 500 records .

This double cd runs about two hours of music with 7 original never-published-before tracks, and in detail:
the whole official Pikes in Panic discography,
live and studio unpublished recordings,
bonus videoclip shot during a live concert,
info booklet with the story of the band.
Story, discography, photo, reviews, flyers at www.pikesinpanic.com
MySpace page www.myspace.com/pikesinpanic